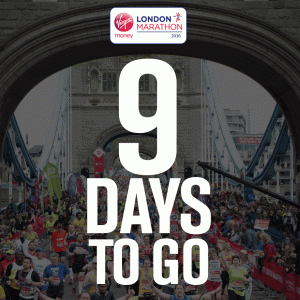 The lovely London Marathon page on Facebook today popped up to say there are 9 days to go!!!
The most fantastic way to start this update is to be able to say I have reached my Fundraising target and at the time of posting it stands at – £ 2127.65
I am truly humbled and blessed by the generosity that people have shown in supporting WaterAid in helping me reach this target.
Of course, now the opportunity is there to see how high the bar can be raised in the last few days!  🙂
To donate click http://uk.virginmoneygiving.com/anthonywarren1
Heart of Kent Hospice 1/2 Marathon + Extra
I decided at the last minute to do the Heart of Kent Hospice 1/2 marathon, but to do the necessary distance on my plan that day I ran to the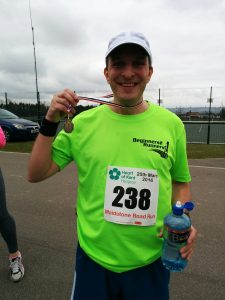 event, ran the race, and then ran home, plus a bit extra to total 18 miles. The race itself was great but featured a killer hill near Sutton Valence. That being said I managed it in 2:00:34
Sports Care Revolution
I want to give a big shout out to Dan Fernandes at Sports Care Revolution (https://www.facebook.com/urbodyisatemple). I've seen Dan a number of times for sports massage and "preventative" muscle maintenance during training. After the HOKH 1/2 I had a bit of knee pain that hindered the next couple of training runs but thankfully after a visit to Dan I was back up and running! (Pun intended!)
I'm just pleased it wasn't anything too serious and have since upped my foam-rolling and stretching exercises at home.
Fundraising Quiz night
As the whole point of running for WaterAid is to raise as much money as possible I organised a Quiz night held at Eastgate.
We had just under 70 people come and enjoy a great evening of quizzing with some rounds having a bit of a water-y theme.
All in all the evening was a great success and to top it off, we raised £ 346.05 – Fantastic!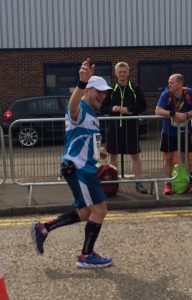 Paddock Wood Half Marathon
Wow – what a race. I entered this many many months ago but at the time didn't realise how popular the event is each year.
Due to my recent knee trouble, the plan was to take it easy and use the race for time on the knee rather than aiming for a quick time. It seems crazy to say that I finished thinking…"mmm, that was a comfortable half marathon" – how quickly you get used to the intensity of training required that it alters what you think is "normal" or "hard"!!
Distance covered in training
I was asked recently if I knew the total distance I had covered during training. I didn't know at the time but I've subsequently had a look on Strava and to my astonishment have discovered that since 1st January I have covered 287 miles. That's equivalent to 10 marathons! With the remaining runs in my training plan that will take the total over 305 miles.
Therefore to answer the original question….to run one marathon you have to run the distance of 11 marathons during training! Bonkers, eh?
So, what's in store for the remaining 9 days.
– A few more runs of course! Only 4 or 5 but cut way back on distance so that I don't arrive on the start line with tired legs!
– A final trip to see Dan a few days before.
– Minor adjustments to my GoPro-esque camera I'm hoping to wear on a baseball hat to capture some memories of the day.
– Stocking up on as many carbs as by body can handle!